Develop a team that makes EVERY Sunday exceptional. This program will help you do that at a pace that would be almost impossible on your own.
Hey Worship Leader,
There are three BIG lies most of us believe.
I'm the leader. It's all on me.
I'm a creative. Systems & administration hold me back and are just "necessary evils."
I MUST create great Sundays each week.
The first lie will keep you from developing team members and building up leaders (that is, other than to make sure Sunday sounds good.)
The second lie will keep you in an ugly cycle of...
always

feeling behind

with everything that needs done,

frustrating

the pastor and team members with the disorganization,
and allowing an

unhealthy culture

to take hold in the ministry.
And the third lie will keep you in a "Sunday to Sunday" grind—which will almost always lead to ending your ministry from emotional and spiritual exhaustion. (Not to mention the toll it will take on your family.)
Further down this page, I'm going to tell you about the three ministry-transforming truths that will help overcome these lies.
And these three truths will be the foundation of this one-year mentoring & coaching program, Exceptional Every Sunday.
If you've ever had this feeling, "There has to be a better way to lead a worship ministry...," then keep reading.
I'm excited for the journey we can go on together.
Matt Miller
WorshipTeamCoach.com | WorshipWorkshop.com
'Exceptional Every Sunday' will equip you to…
But first, let's talk about the three ministry-transforming truths that will help you overcome the three big lies most worship leaders believe.
The Foundation of Your Worship Mentor:
Three Worship Ministry Leadership Truths
"E4" is the shorthand we use for embracing the truth of Ephesians 4:11-12.
Those two verses contain ancient leadership wisdom that will help you avoid the issues that cause burnout.
But too many worship leaders ignore this scripture passage... to their peril.
Healthy, intentional systems...
create a healthy team culture.
help bring your God-given vision to reality.
actually empowers you to thrive as a creative.
Systems are the secret sauce of ministry-transforming leadership.
Truth #3: Sunday is NOT the Primary Focus
Most worship leaders are Sunday-driven managers. That is, 95% of their time and energy is focused on making this Sunday and next Sunday "great."
The problem is, there's ALWAYS a "this Sunday" and "next Sunday." The pursuit of consistent, high-quality Sundays never ends.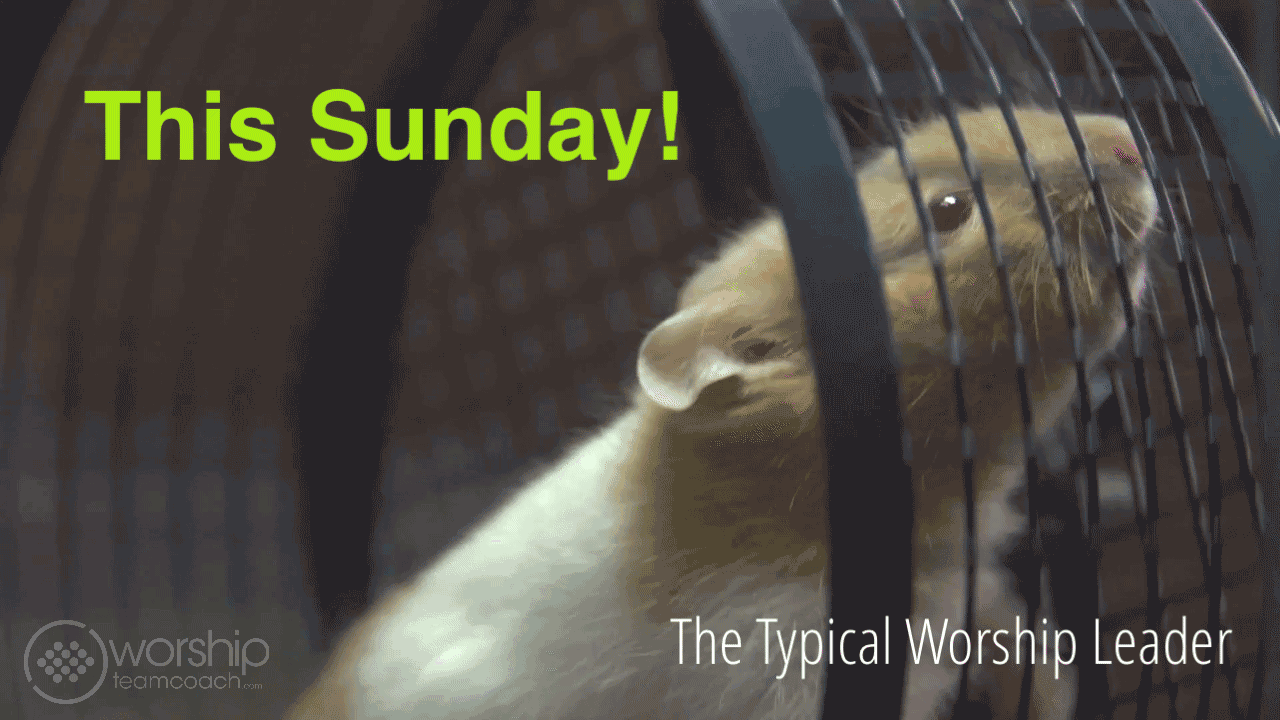 Sunday-driven management will slowly kill your heart.
(You may not feel the 'burnout' yet, but it's likely you feel the strain of "Sunday after Sunday after Sunday.")
After embracing these three truths, you could experience this firsthand:
If you focus on creating great Sundays every week, eventually, you might build an OK team. But, if you focus on building a great team, eventually, you can't help but have great Sundays every week.
Sunday-Driven Management versus...
For years I focused almost solely on Sunday. After a while, I did manage to build an OK team. But the quality of Sundays were still inconsistent from week to week.
I call this Sunday-Driven Management:
The leader's energy and focus are almost entirely consumed on upcoming Sundays. The long-term growth of the ministry slows, or is stifled completely.
But things changed when I started intentionally growing my team musically, spiritually, and relationally:
I had more time and freedom to focus on my passions,
The ministry ran efficiently without constant attention from me.
I had multiple worship leaders so I could take a week off each month (or more).
I had a team culture that valued preparation, respect, high musical standards, and showing up on time. (Yes...I even eliminated lateness.)
Sundays were consistently high quality. (And the church sang and participated more.)
It was the result of embracing the leadership wisdom found in Ephesians 4:11-12. What I now call E4 Leadership.
And that's what I want to help you achieve in this year-long coaching and mentoring program.
How Exceptional Every Sunday Works
A One-Year Coaching Program
The goal of this 12-month program is to help you develop a worship team ministry that leads exceptional Sunday experiences, week after week, without burning out you or your team.
To do that, we help you determine how to tackle the big challenges for worship leaders:
Not enough time to develop your team (or take healthy time-off).
The team is not fully committed to standards.
The team struggles with musical quality or platform presence.
During this program, we'll help you determine the specific and measurable goals to tackle these issues—and the challenges unique to your ministry context.
And, we'll help you stay focused and achieve your goals.
....How We Help Leaders Make Every Sunday Exceptional
This is a replay of an explanation of our Exceptional Every Sunday model during a live Zoom training.
You and a coach will meet regularly for results-based coaching, mentoring, consulting, and "soul care."
Results-based: You're a busy worship leader. We help you get clarity on the right solution without spending too much time in 1:1 sessions.
Coaching: You already have most of what you need. Your coach will ask you questions to help you get clarity and direction.
Mentoring: Tap into other experienced leaders.
Consulting: You get an outside perspective to help uncover innovative solutions.
Soul Care: Sometimes, you just need that person who understands worship ministry, can listen really well, and is NOT connected with your church.
One-on-one sessions are schedule as-needed throughout the coaching program. On an average you'll meet 1:1 with a coach 1 - 2x a month. (During the first 3 months more sessions are available as needed.)
You'll meet weekly with a coach and a cohort of other growth-focused worship leaders in a group coaching session. This will involve...
Coaching/Consulting/Mentoring as needed.
Peer-to-peer feedback & brainstorming.
Goal-setting & accountability.
Iron sharpens iron—you'll help other worship leaders as they help you.
Ongoing motivation is mission-critical. You'll encourage other worship leaders to stay motivated (and they, you).
These check-ins are on Mondays, but they don't require extra time. We utilize Slack for this part of the coaching.
Ready-When-You-Are Training
You'll get access to all our on-demand leadership training for whatever specific ministry area you're renovating. That includes...
Unlimited access to the RENOV8 Workshop Series during this program.
Leadership training that focuses on the five-phase leadership journey you'll be walking: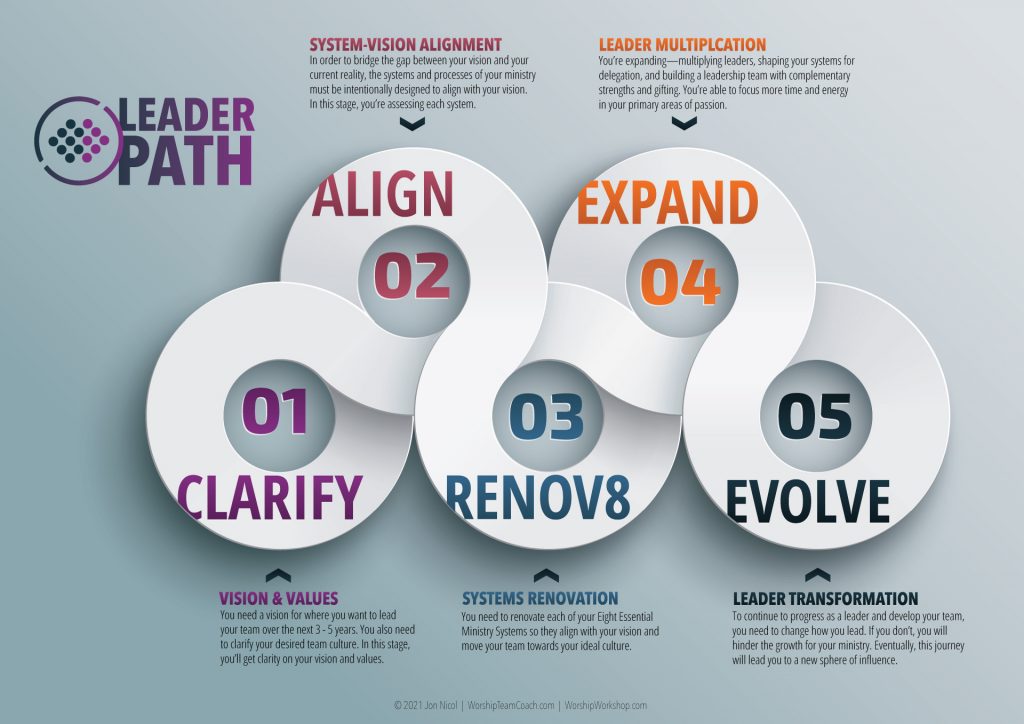 Your team gets full and unlimited access to Worship Workshop, our premium training site to develop worship team members during this program.
You'll also learn how to delegate anything — from small tasks to a full area of ministry through our proprietary process "7 Steps to System Mastery".
Several times a year, we'll do live-on-Zoom workshops that help you get work done quickly to reach your goals.
While our team tries to respond to any worship leader who reaches out for help, we will make YOU the priority.
If you get stuck between sessions, you can email your coach and they'll work to get you unstuck and moving forward.
Each quarter, new leaders will join this growing community of E4 Leaders.
You'll create friendship and a camaraderie that will help you avoid the isolation so many worship leaders experience.
Group Sessions:

 

1:1 Coaching Sessions

Scheduled at a time that works for you.

Weekly Check-Ins

Mondays, anytime that works for you…(Slack)
Investing In Ministry Transformation
In the interview process, you'll learn exactly what your church's investment will be over this next year.
The leadership and ministry transformation you'll experience during this program is worth a high five-figure investment for your church.
But...Exceptional Every Sunday Coaching doesn't cost $10K.
However, Exceptional Every Sunday Coaching is a four-figure investment that your church will be making in you.
Again, it's best to discuss the costs after you understand if / how this program can help you in your unique context.
And then we can talk more about how your church can make this investment in the strategy call.
To see if or how this program can help your unique ministry situation, I like to schedule a 15-minute "Exceptional Sunday Assessment." It's the first step to develop a epic growth plan for your team.
On this call we'll...
Take a look at your current situation to see what is/isn't working.
Identify what's possible for you and your worship team in the next 90 days and beyond.
Uncover the #1 issue holding your team back from sounding fantastic and being engaging lead worshipers consistently.
Develop a 3-step action plan that will help you make every Sunday exceptional ASAP.
Even if we find the Exceptional Every Sunday Coaching Program isn't right for your ministry, you'll still find value from this brief but insightful audit.
Select your day and time below to schedule your free Exceptional Sunday Assessment.
Note: We only do a limited number of these per week, and only book these calls about 7 days out. If there are no time slots available, it means we're booked up. Please check back. Or, send any available time blocks you have to help@worshipteamcoach.com and my team will see if we can fit you in.
A final note from Matt...
This might be a significant investment for your church. And that's how you should look at it—as an investment.
Because of this investment, you will grow as a leader in ways you can't even imagine right now. And your church can only benefit from that growth.
Imagine you and your ministry a year from now...
You'll have more time and freedom to focus on your passion areas.
You'll have a healthier, more committed team.
You'll be growing leaders and sharing the weight of ministry.
You'll have consistently high quality Sundays—without burning out yourself or your team.
I'm excited to walk along this journey with you!
Matt Miller
WorshipTeamCoach.com | WorshipWorkshop.com