The Patreon Jumpstart Bonus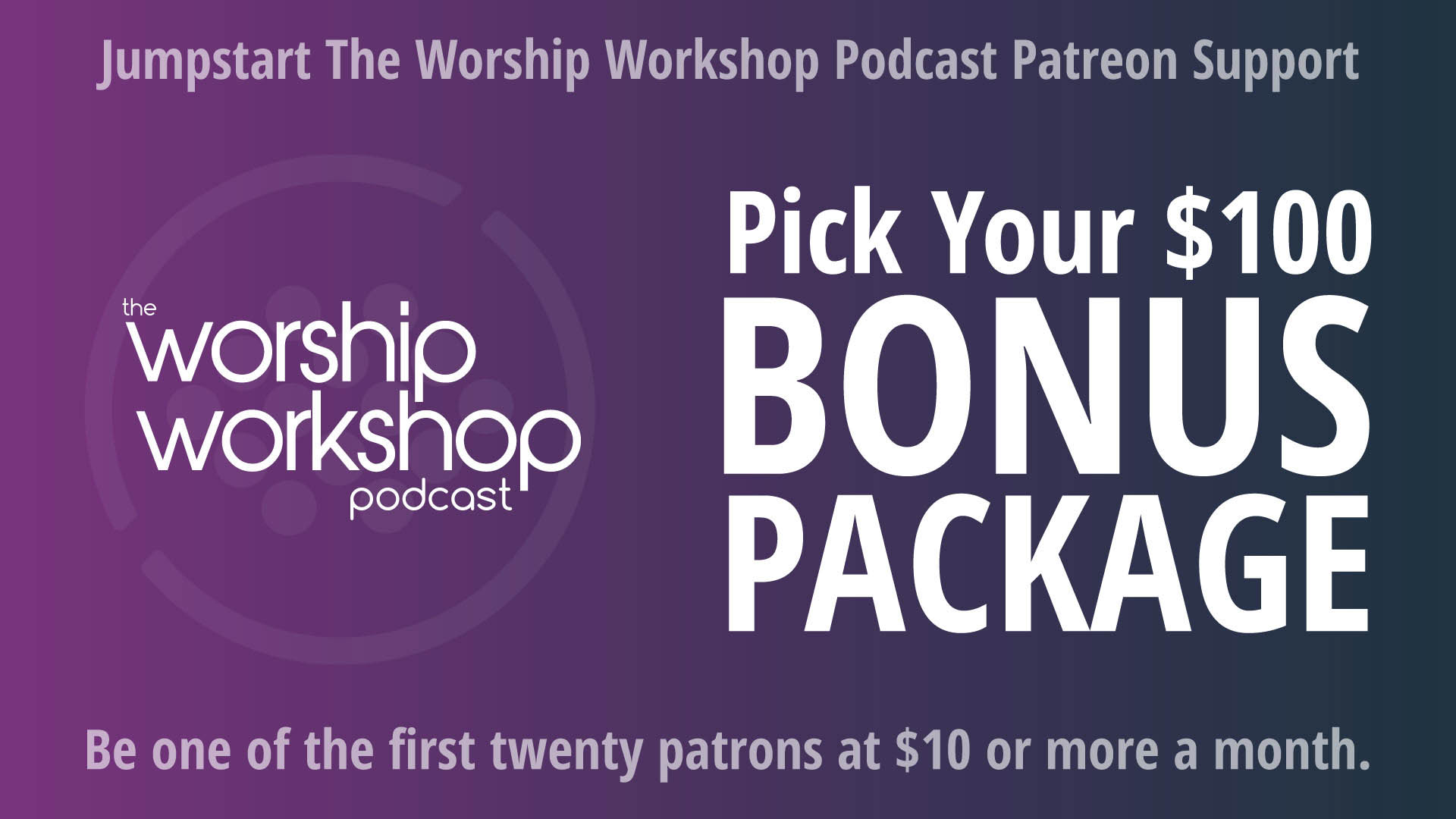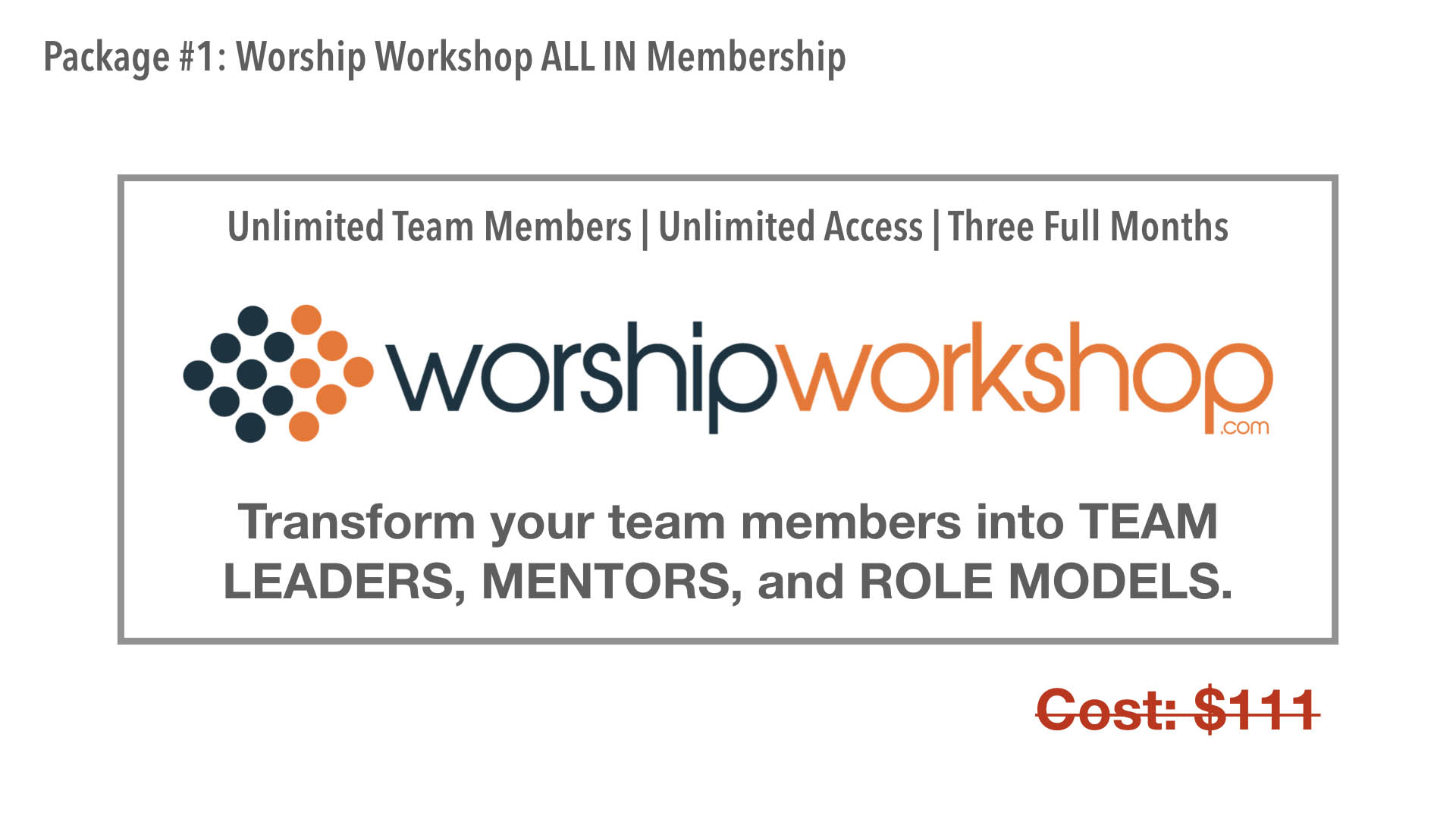 PACKAGE #1: Three Months of Worship Workshop
Worship Workshop is our membership-based, team member training site that helps you transform your team members into team leaders, mentors and role models.
If you've been considering enrolling your team in Worship Workshop, this package is a fantastic way to get started. During your free three months, you'll have time to go through Launch Strong, our training to help you get your team members invested and using Worship Workshop.
And you'll be able to add an unlimited number of team members in since you've got the ALL-IN Package.
Note:
Once your three free months are up, you'll begin a paid membership at only $37 a month. But you can cancel anytime without penalty or obligation.
Because of the promotional nature of this three-month trial, this Bundle is only good for new Worship Workshop enrollments.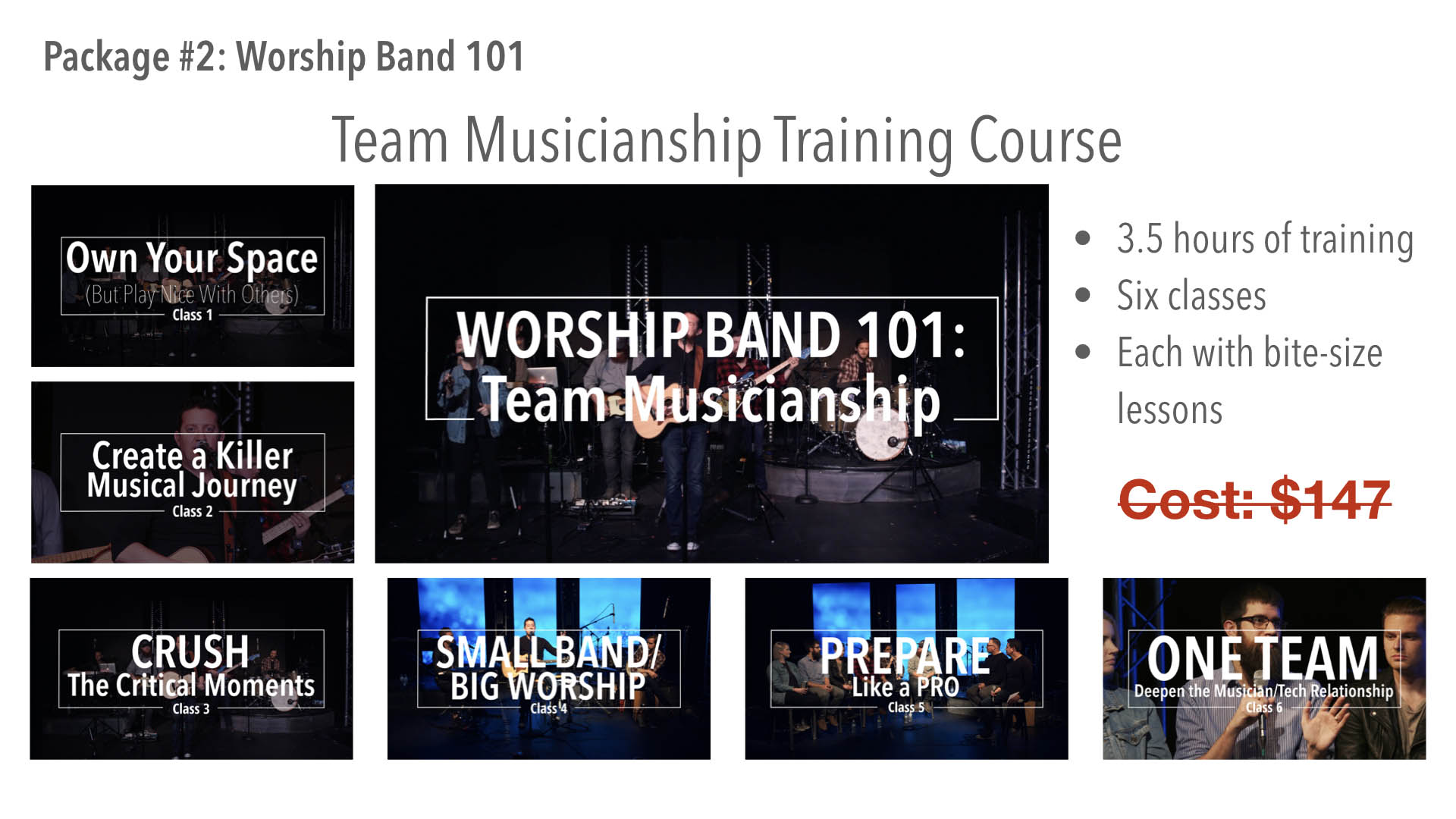 PACKAGE #2: Worship Band 101
This course is three and a half hours of practical, easy-to-implement training for you and your worship band. 
Imagine your team learning...
How each instrument fits together...

When to play, and when to lay-out...

How to create dynamics that fit the song...

Tips to keep from being too busy...

Which parts are critical to a song, and which aren't...

How they create a full sound with fewer instruments...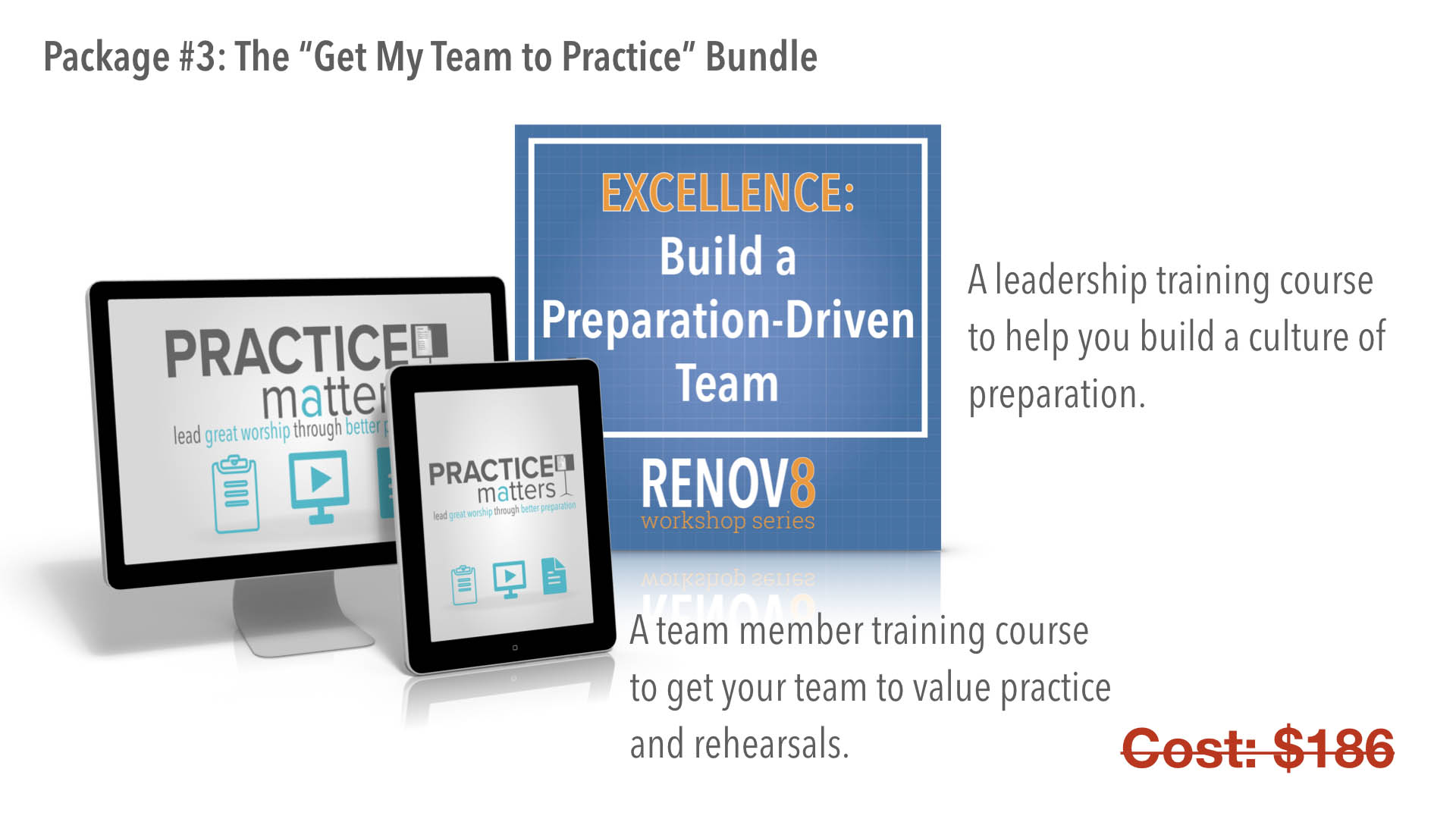 PACKAGE #3: The "Get My Team To Practice" Bundle
If your team struggles with not practicing enough, then this is the PERFECT bundle. Why?
Because there's a training course for you AND a training course for your team. 
The RENOV8 Course,
EXCELLENCE: Build a Preparation Driven Team
gives you a step-by-step process to change the culture of preparation in your worship team.
You'll discover the nine-step process that will take your team members from semi-committed to ALL IN.

You'll learn your critical responsibilities as the leader to ensure your team is prepared.

You learn how to hold your team members accountable to a higher standard of preparation.
Practice Matters is a training course for your team members to help them build great preparation habits.
Practice Matters will...
Teach your team the value of preparation from a Biblical perspective.

Reduce the stress and frustration of people coming unprepared for rehearsals.

Help make the most of your rehearsal time.

Teach your team practical techniques that will improve their ability to prepare.

Grow the musicianship & commitment level of your team members.

Encourage and teach your team to memorize their music.
So if you've got a bunch of semi-committed slackers on your team, or you just want to raise the preparation standards, this package would be perfect for you.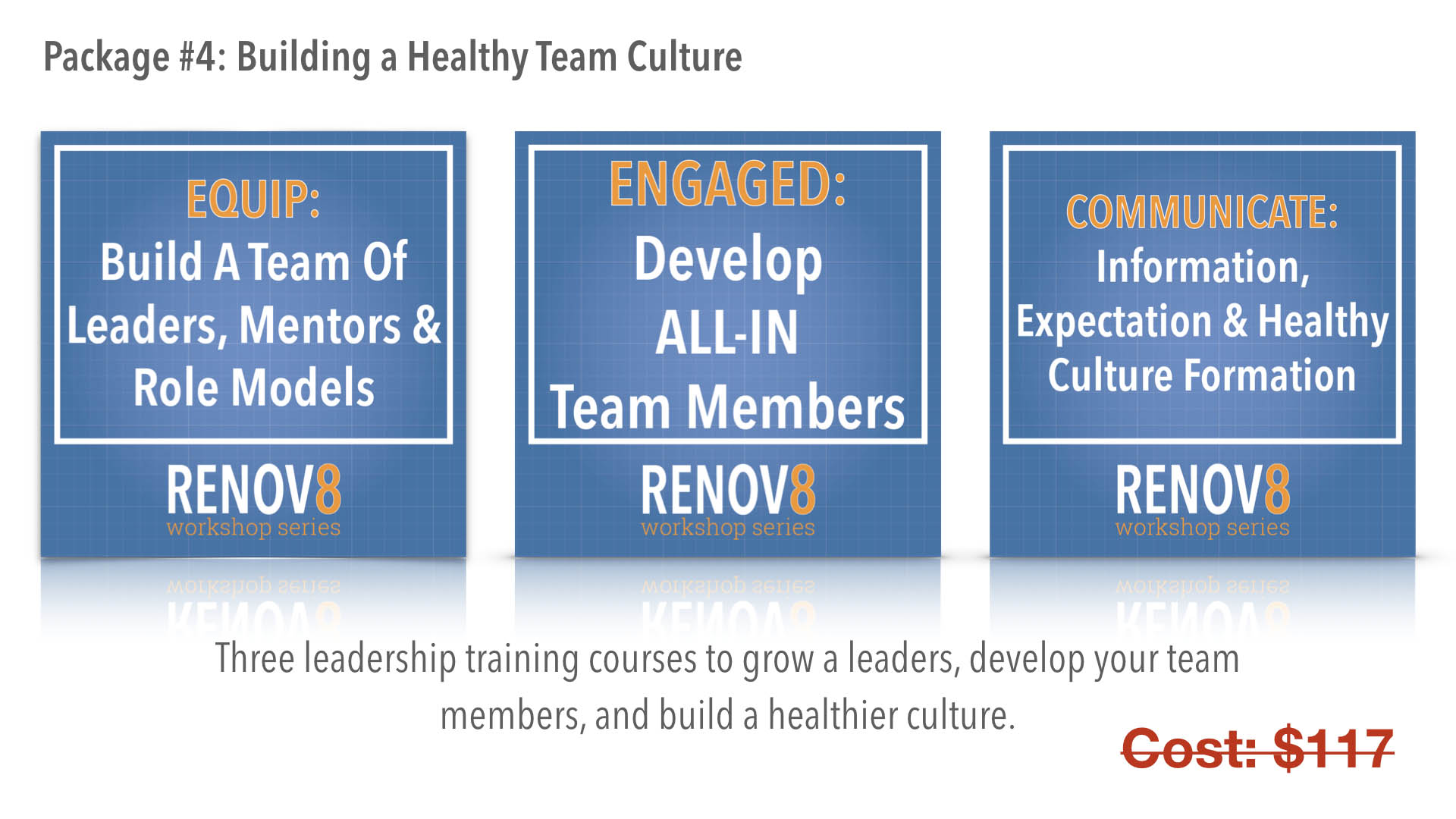 PACKAGE #4: Building a Healthy Team Culture
If you want to raise the bar of your team culture, this package is the one for you. You get three of the RENOV8 courses that focus on the trifecta of culture:
Leadership Development

Team Member Development

Communication
Communication isn't just about transferring information, but about culture transformation. Language and communication are invaluable tools for you as a leader.
So this RENOV8 Course, COMMUNICATE: Information, Expectations, & Healthy Culture Formation, helps you use communication to strategically change your team's culture. 
You'll learn how communication shapes your team's behaviors and attitudes.

You'll learn how to create, communicate, and encourage your vision, values, and expectations. You'll also learn how great communication promotes ownership of and commitment to the team.

You'll learn how to curb gossip, sarcasm, mean-spirited joking, and other culture-eroding communication.
You can have best expectations and values, but if you don't develop and train your team, it won't matter. 
That's why this package also includes ENGAGED: Develop ALL-IN Team Members. You'll get step-by-step training to create a development process to grow your team musically, relationally, and spiritually.
You can help them become more engaged lead worshipers, better musicians, and more passionate followers of Jesus.
But here's the thing—you shouldn't do any of this alone. You need a leadership team.
And that's why we're including EQUIP: Build a Team of Leaders, Mentors, & Role Models. 
This RENOV8 Course gives you a step-by-step process to develop and deploy a team of leaders.
Most worship leaders only have "assistants" and "substitute leaders" and never develop true leaders to help lead the ministry. Why?
Leadership development is another area of worship ministry that gets neglected because of the urgency of Sunday. But for worship ministries to thrive, worship leaders need to strategically and intentionally build a team of leaders.
This course will help you do that.
So do you see how this package can help you transform the culture of your worship ministry?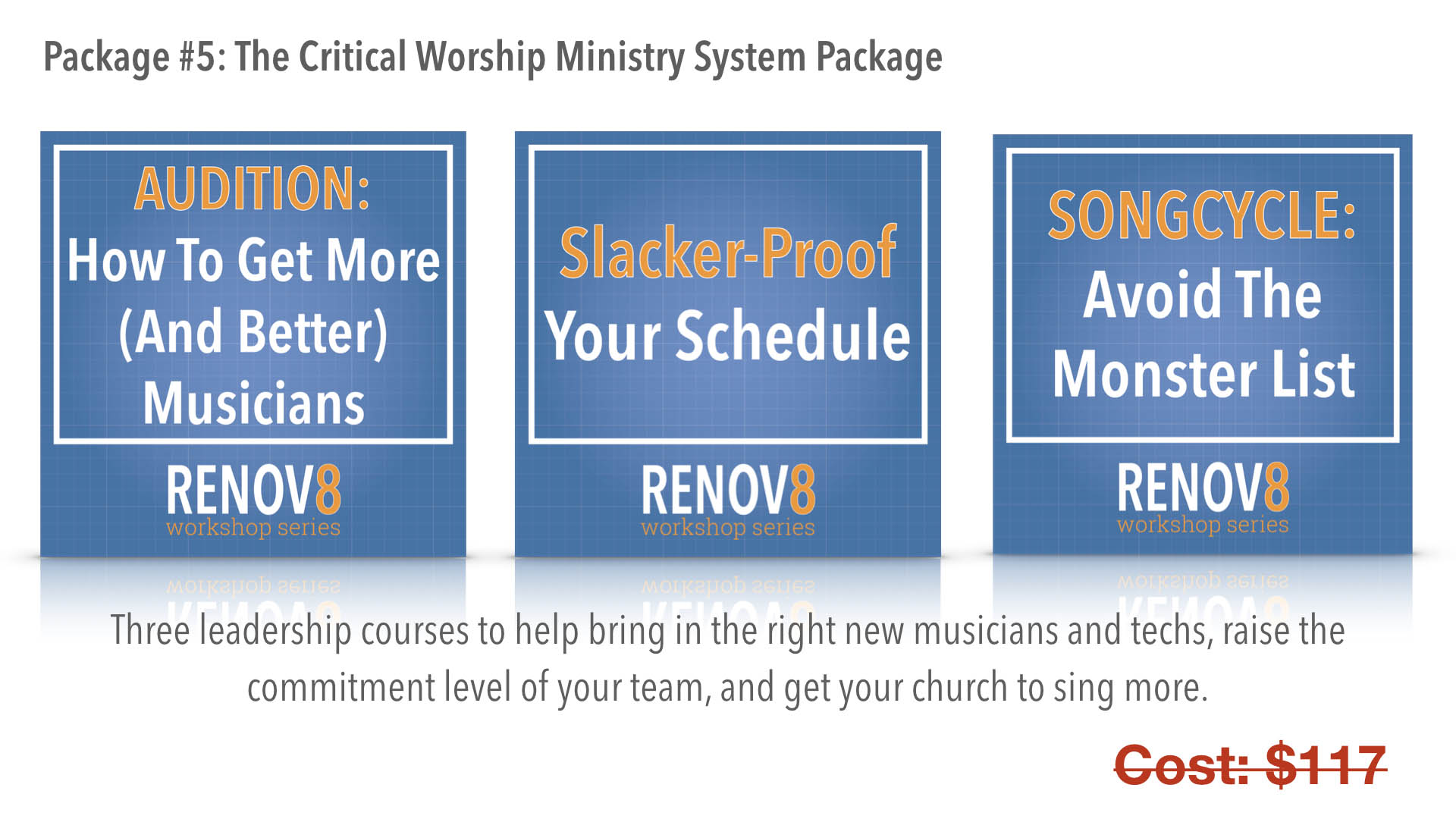 PACKAGE #5: The Critical Worship Ministry Systems
These three systems are the unsung heroes of your worship ministry. 
Your scheduling process ensures that your team members show up. And if you do it right, you can use your scheduling process to build a deeper commitment among your team members. 
Your audition process ensures you keep the right people in and the wrong people out. Remember, it's easier to tell someone NO upfront than it is to ask the to leave the team. 
A great qualification process will help you protect the culture of your team and build it with new team members who meet your standards. 
And your song management system—wait, do you even have a song management system?
Yes, you do!
It's how you introduce new songs, retire old songs, and rotate your songs Sunday after Sunday. A poorly run song management system is the #1 reason why your church isn't engaging and singing. They're singing from the screen, and not from the heart.
These three RENOV8 Courses will help you level-up these critical ministry systems, so you've got a stronger team and more engaging worship.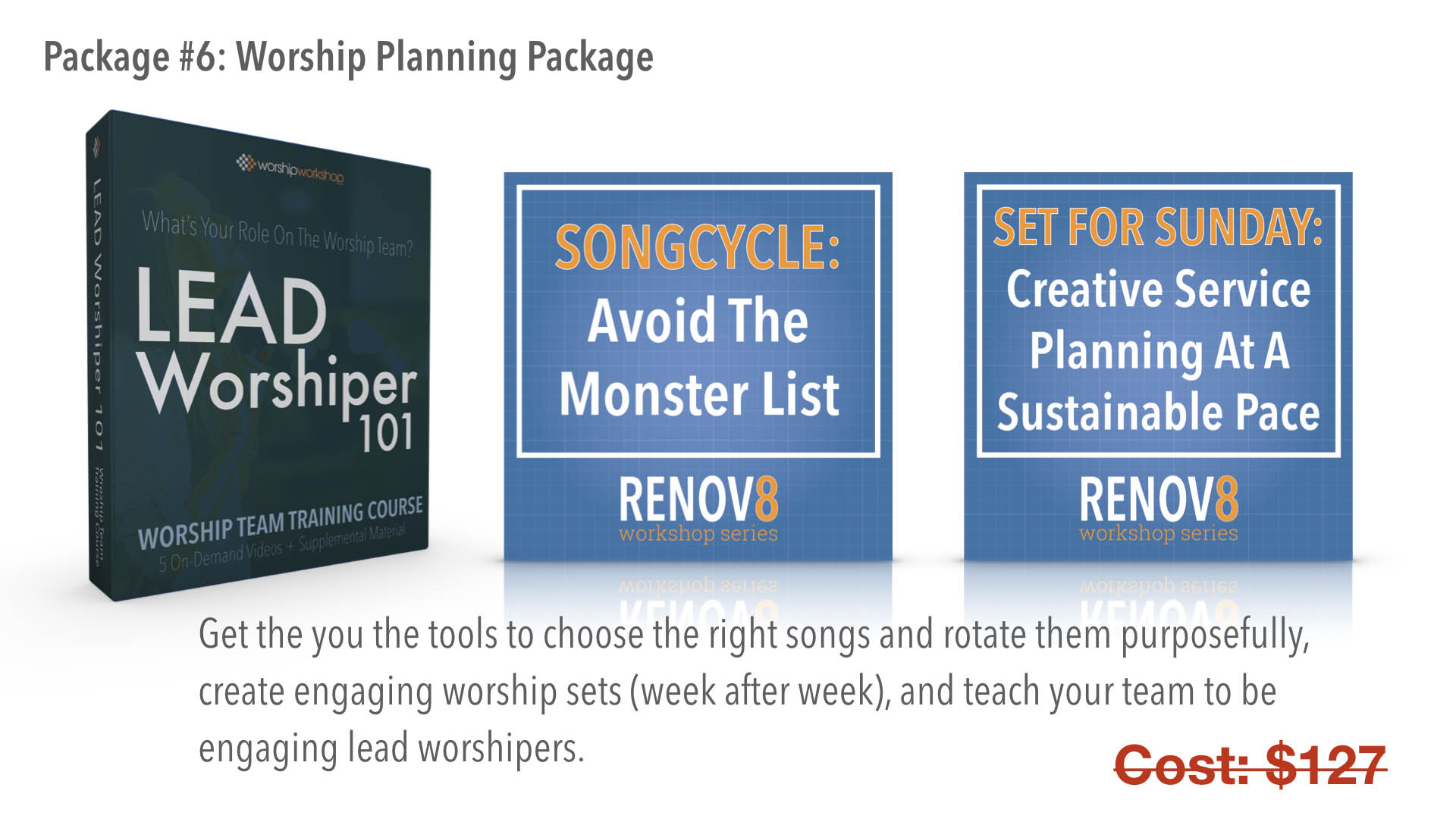 PACKAGE #6: Worship Planning Package
This bundle is the ultimate worship planning and leading package. It will give you the tools to 
choose the right songs and rotate them purposefully, 

create engaging worship sets, week after week,

And teach your team to be engaging lead worshipers.
Here's what's included: 
SET FOR SUNDAY: Creative Service Planning at a Sustainable Pace
You'll learn how to plan an intentional, creative journey of worship, week after week, without burning out.
SONGCYCLE: Avoid the Monster Song List
This leadership course will help you understand how to get your church to sing from the heart, not from the screen. It will also help your team know your rotation of songs better.
Lead Worship 101
This is a team member training that will help your platform singers and instrumentalist understand their role as lead worshipers.
Patreon Jumpstart Bundles