Your Perfect Rehearsal Blueprint
How to nail 4 songs in 60 minutes every week, without running long rehearsals or making unrealistic practice demands on your team – even if you have average musicians, chaotic rehearsals, and no one shows up on time right now.
Watch this short video...
Your Perfect Rehearsal Blueprint...
In this 90-minute workshop, we'll design YOUR perfect rehearsal, and show you how to make it a reality. 
How?
By doing the right things at the right times:  
BEFORE REHEARSAL
We'll give you the 3 critical pre-rehearsal elements you have to implement before every rehearsal to make it a success.
DURING REHEARSAL
You'll learn how to map a rehearsal, determine where and how to focus your limited time, and then wrap with a killer R.E.A.L.™ runthrough that will set your team up for Sunday success.  
AFTER & ONGOING
You won't do #1 and #2 very well without making long-term changes. You need to…
Plan at a sustainable pace – or you'll burn out.

Rotate songs at a sustainable pace – or your team will burn out.

Transform the team's culture and mindset around preparation. 
We'll show how to do all this at the upcoming workshop.
Hosted by: Matt Miller, Head Coach & Director of Operations, WorshipTeamCoach.com

Taught by: Jon Nicol, Founder of WorshipTeamCoach.com, author of Exceptional Every Sunday
Time: Tuesday, Feb 21, 2023 at 8:30pm EST. 
Location: Zoom
Cost: $0 - but live attendance is required. No replay.
Register Now and You'll Get:
Your spot reserved for this 90-minute intensive.
A Team Prep Assessment (15 mins) - a 1:1 conversational assessment with Matt to start to determine where the sticking points are with your rehearsals, worship team, and Sunday prep processes, so you can go further in the workshop.
Workbook & Training Materials - you'll get instant access to these as soon as you register.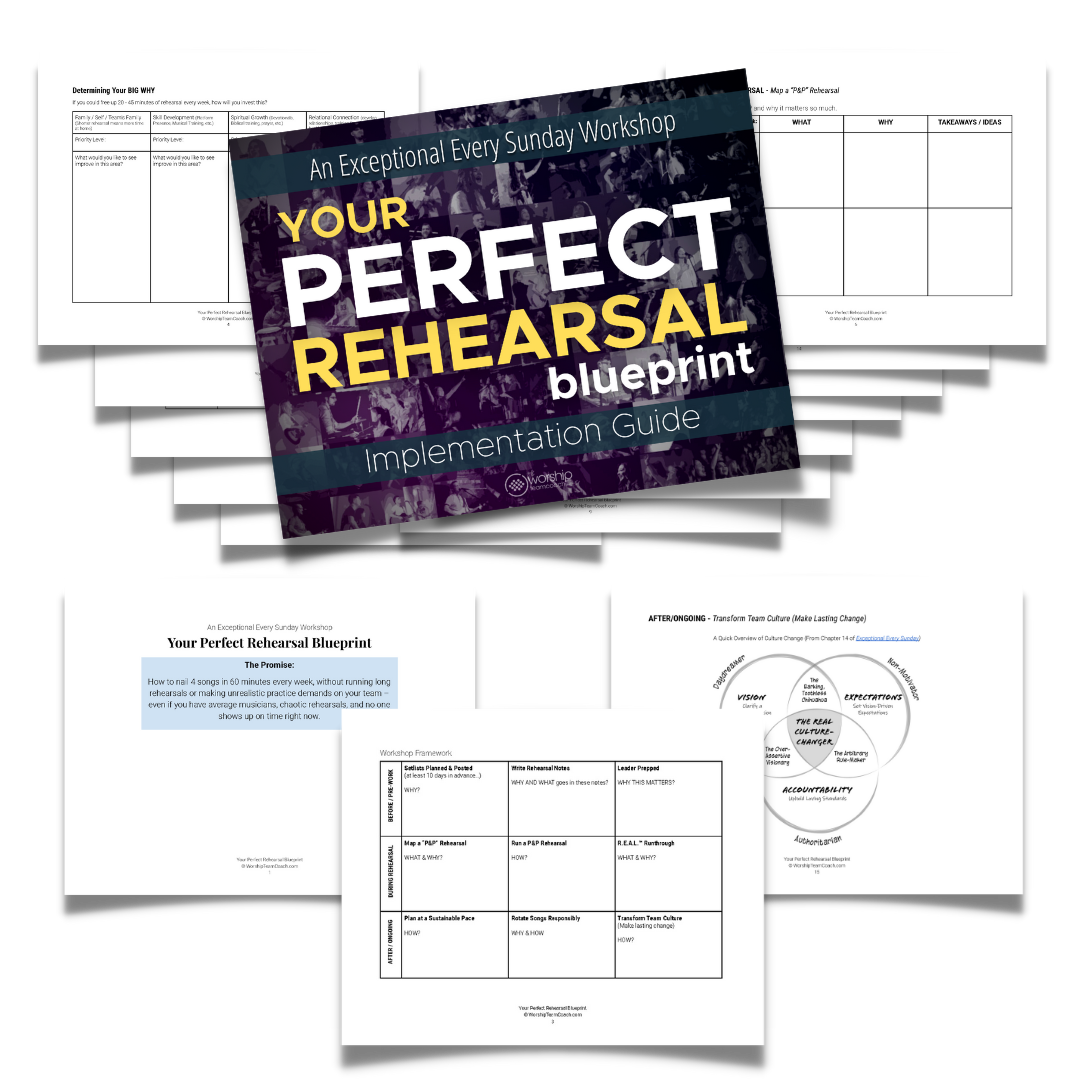 We're not offering replay because this is a highly interactive and participatory event. There's valuable content, but the real juice is in you showing up and doing the work. 
Register for the workshop...
Block that time slot on your calendar...
And let's build

your

perfect rehearsal!
Talk soon!

Jon Nicol
Founder, WorshipTeamCoach.com