Your Sunday Morning Road Map!
Who does What, Where & When?
Excerpt from Worship Flow:
Transitions Happen:
The worship team ends the song.
A smattering of applause from the congregation
Singers are smiling.
The band looks at the acoustic guitar player.
The acoustic guitar player looks at the keyboard player.
The keyboard player gives him a twitch of the head that says "You're playing the intro, not me."
The singers continue smiling, but now are glancing over their shoulder to see who's starting the next song.
The guitarist shuffles his charts around and gives the worship leader the universal "Just one-moment" sign with his right index finger.
The worship leader wants to give him back a universal sign of his own, but instead says to the congregation, "Let's move into a time of prayer."
Let's plan our Transitions and Segues.
(Also included is a free coaching session with Matt.)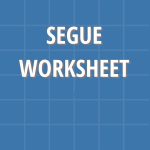 Immediate download access
INCLUDES BONUS: Free Coaching Session with Matt