Create a Team that can operate without you.
A snapshot of everyone on your team and how they can be cross-trained and mentor others. Eliminate the burnout on your team.
Let's face it, as worship leaders we wear a lot of hats, but that doesn't mean we wear all of them well.
This 3-Deep Depth Chart forces us to duplicate ourselves and empower others to lead.
Ephesians 4:11-12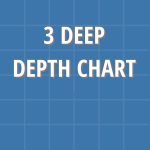 Immediate download access
INCLUDES BONUS: Free Coaching Session with Matt