Passing On My "Wisdom"
At some point in one's life, one realizes, "Wow, I've been doing ________ for how long?"
And in those moments you reflect on the fact that, indeed, "My wisdom and experience might be worth passing on to others."
Looking back over my own career as a worship pastor, I can see glimpses in my formative years of what I might call genius (if I weren't so humble).
I had the natural talent, spiritual gifting, and unfounded confidence to exasperate even the most grace-filled of my team members.
Admittedly, these abilities have waned in my later years. But I can still draw from that deep well of aggravating behavior.
So it is with the utmost humility that I submit to you a sort of "rulebook" that encapsulates my two decades of frustrating worship team members.
My 13 Rules
Rule #1: Planning Your Setlists
Plan your setlist a day before rehearsal. Remind your team that they're required to find time within the next 26½ hours to practice these songs.
Also, don't bother giving your projectionist/video tech the song list until the Sunday sound check. He doesn't need much time to build it out.
Rule #2: Arranging Songs
Arrange each song differently EVERY time you schedule it. Your band (and video tech) will appreciate the extra work that requires.
Rule #3: Managing Your List
Curate an active song rotation of at least 378 songs. And, please, make sure you never repeat any song often enough for your team (or congregation for that matter) to really know them.
Bonus: Populate that list with as many of your God-breathed originals as you can.
Rule #4: Personal Practice
As the leader, you're entitled to "wing it" at rehearsal. Let's face it, learning the songs by rehearsal requires a fair bit of work, and you have a lot going on. You'll have them down by Sunday.
And if you don't, that's what the confidence monitor is for, right?
Rule #5: Introducing a New Song
When you introduce a song, make sure your team only has a few days to learn it. Oh, and change the key right before rehearsal since you just discovered it's too low for you to lead.
Rule #6: Scheduling Team Members
Team members yearn for erratic scheduling. So here's a quick, practical guide:
Create the team schedule three months ahead.
After that schedule runs out, plan week-by-week for approximately two months.
Then schedule five months ahead.
Repeat, randomly.
Additional Tip: Make sure you never ask your team members how much they want to serve or when they're available.
Who has time for that?
Rule #7: Running Rehearsals
Never start rehearsal until the final person shows up, even if they're 20 minutes late.
To kill time, tell some stories about your band from your college days—especially that one time you opened up for The Newsboys.
They never get sick of that story.
And here's a free tip on how to deal with tardiness:
If the late-arriving team member is a friend of yours, let it slide.
If you they're not one of your favorites, a "nice of you to show up" says enough without engaging in some emotionally-messy conversation.
Rule #8: Fostering Band/Tech Relationships
Encourage each of your team members to dictate their monitor needs to the sound person at anytime during rehearsals and sound checks.
Audio engineers LOVE hearing, "I need more me."
Rule #9: Qualifying New Team Members
Value musical talent over character. When you're assessing a potential new team member, it's all about sounding good.
And certainly, don't involve your current team members in the qualification process. They might see, hear, or intuit things that you've missed.
That could make you look bad.
Rule #10: Assimilating New Team Members
Once you put a brand new member into the rotation, your job is done. Let her figure it out from there. If she's lucky, someone might see her floundering and offer to help.
But with the team culture you've created by following these rules, it's doubtful.
Rule #11: Encouraging Team Members
Only praise and encourage those team members who you deem to be musically exceptional (or if they're one of your favorites).
For the rest of the team, a vague "Hey, nice job today" as they're walking out of church will suffice.
Rule #12: Spiritual Shepherding
Every so often, you may get a twinge of guilt that you're not focusing enough on "spiritual things."
So occasionally, spend the first 52 minutes of rehearsal talking at them about whatever theology of worship stuff you remember from Bible college.
Consider reading aloud lengthy passages from John MacArthur's The Highest Priority.*
And by the way, you'll still want to get a full rehearsal in. Just run rehearsal an hour later to make up the time.
Rule #13: Leading Spontaneous Worship
If you want to linger in a moment at the end of a song, just signal your band with a random chopping motion of your hand.
If the electric guitarist doesn't drop out, shoot him a dirty look.
And what if your team has no idea what to do while you're singing random Matt Redman lyrics and swaying side to side?
It doesn't matter. You're having a Jesus-moment.
More Practical Help
So there are my 13 Rules For Frustrating Team Members. I hope you appreciate the relational wreckage and organizational bedlam I've caused to bring these to you.
Now, if you're feeling like this list is more of a cautionary tale and something to avoid, that's your prerogative. And if you were hoping for some practical help in that direction, I can offer you this:
One of the ways that I lost some of my ability to frustrate team members was to develop and implement good ministry systems and processes.
I know, systems? Really?!
My 24-year-old self would be punching me in the forehead right now for even talking about organizational systems. But if you persist in eschewing these thirteen rules, you may want to check out this free resource:
---
GET A SYSTEMS CHECKLIST FOR FREE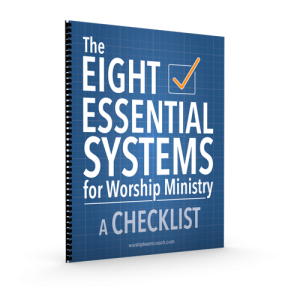 When you get access to this free checklist, you'll learn…
What systems are…
How they help you get more done AND change team culture…
And which eight systems are essential to your worship ministry.
---
If you're a complete tool or jerk-face to your team members, it might be too little, too late.
But for the rest of you dabbling in the occasional, low-grade frustration-inducing behavior, you'll find The Eight Essential Systems Checklist to be a valuable resource.
Leave a Comment Below
And I love to hear from you in the comment section below:
What's one way that…
1) you've frustrated your team members in the past
or
2) you had a worship leader frustrate you.
I'm excited to hear about your experience with organizational mayhem and relational wreckage.
---
*Please know that this is actually a good book. Just don't read lengthy passages at your team members in rehearsal.
Stuck?
Learn how to level-up your team with this free video training.
Find Articles and Podcasts on