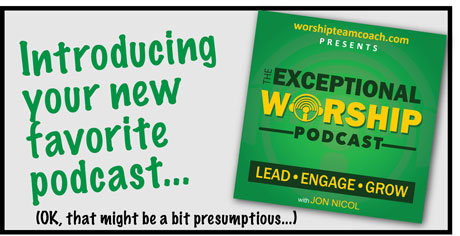 Want to download the Episode?  [Right click and "save as"]
Episode Notes
This "about" episode is a great place to start. We take a few minutes to answer these questions:
Who's Jon Nicol & WorshipTeamCoach.com
Why a podcast?
Who is this podcast for?
When does it come out? How often? How long are the episodes?
What's the content—what will I be getting?
Why the name "Exceptional Worship"?
How can I keep up-to-date with this podcast?
Stuck?
Learn how to level-up your team with this free video training.
Find Articles and Podcasts on