Is This Worth It?
Every year around the same time, I would invite, coax, urge, pester, harass, cajole, and even bribe my worship team members to attend a worship conference with me.
And each year, as I was inviting, coaxing, urging, et. al., I'd asked myself, "Is it worth doing all this again? Maybe I'll just go alone." But every year, I concluded that, yep, it's worth it.
Attending worship conferences as a worship pastor/leader is alright. You learn, you get refreshed, and you bring home a few ideas and concepts to level-up your worship ministry.
But when you invest the time and money to take your team to a worship conference, it multiplies the impact of that event exponentially.
And it's not just about what they learn.
Learning and skill development are beneficial. However, Youtube and scores of worship resource sites can provide that kind of content. So why is attending a worship conference with your team worth the time, travel, and expense?
Here's why.
Five Fantastic Reasons For Taking Your Team To A Worship Conference
1. Discover a Vision for What Could Be
Most worship team members don't spend a lot of time in other churches, or even watching videos of other churches' worship. Most of what they know, they know from your church and whatever past experience they have.
So attending a worship conference as a team will let them see and experience gathered worship in a different context. They're going to get a picture of what could happen if they
learned a new skill,
or picked up a new piece of gear,
or actually practiced before they came to rehearsal.
(Yeah, we've all got one or two of those, right?)
2. Learn From Outside Voices
When you speak to your worship team, to them, it sounds like Charlie Brown's teacher: "Wah-wah-wah-wah-wah."
But when a speaker or instructor at a worship conference says the same thing, your team member is suddenly in awe of that person's wisdom (and wonders why you've never spoken of this miraculous concept before).
It's the "hometown prophet problem." For whatever reason, a fresh voice can break through to our team members. It's tempting to let it drive you bonkers. But just embrace it.
And when your team member hears that "game-changing concept" for the first time (that you've been talking about for two years), just smile and nod and say, "Wow! That is a great idea!"
3. Encounter a Catalyst for Change
When your conference-attending team members learn new concepts and get a vision for what could be, it will often morph into real change.
On the drive home from a conference several years ago, my team members talked about playing with a click and what they had learned about that.
"We have horrible tempo. We need to start playing with a click." It was something I had been thinking about for a while, but I knew making that change could be an epic battle. But once I knew I had supporters from my band, we started our successful journey to play with a click.
If a conference hadn't been a catalyst for that change with several of my team members, my efforts to move us to a click may have resulted in far more casualties. But these team members were able to influence other team members—more effectively than I could.
4. Experiencing Spiritual Refreshing
Conferences give your team a chance to receive spiritually. Chances are, many on your team members have never encountered the kind of gathered worship experience that you find at a conference. And it's not about having a "famous" worship leader or professional-level musicians.
There's something both unique and profound about a room full of worship leaders and team members all singing together.
5. Creating a Shared Experience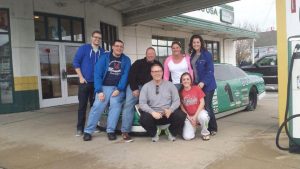 "When was that?" one of my newer team members asked, pointing to a picture taped to the wall in our backstage area.
It was a picture of several of us outside a Quaker Steak and Lube that we stopped at every year on the way to a worship conference. That particular trip was where we discovered that the "hot" sign was on at the Krispy Kreme next door.
If you never had hot wings followed by hot donuts with your worship team, you are missing something sublime. Make sure you buy a few boxes for the road.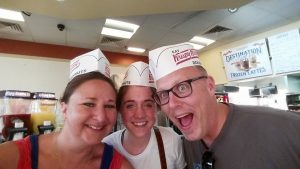 Worship conferences—especially those that require a little travel—are ideal settings for bonding as a team and creating shared memories. So when you do go to a conference, look for ways to spend time together as a team. Don't just make it about the sessions and speakers.
Check Out Worship 4:24
By the way, one of my long-time, go-to conferences is Worship 4:24 in Cedarville, Ohio.
Cedarville University partners with the State Convention of Baptists in Ohio to put it on. And they do a fantastic job. This will be my fifth or sixth year to teach at it. But before that, I was an attendee and took my team. Even after I started teaching at it, I took as many as I could get it.
I chose Worship 4:24 as the primary conference to push my team members towards every year for several reasons:
Speakers/Musicians
Worship 4:24 brings in phenomenal speakers and worship leaders/artists to headline the event. I've never been disappointed.
Abundant Breakouts
Worship 4:24 knows it's not all worship leaders in attendance, so they create breakout sessions that cover just about every role within the worship ministry. My team members only frustration was that they couldn't go to more.
Affordable for the Average Church
Many worship conferences are $100 or more per person. That adds up quick. Cedarville keeps its costs down so that the average worship leader can afford to bring his/her entire team.
I was able to put Worship 4:24 registration in my budget each year. It was affordable enough that I could even cover a dinner out for my whole team during the trip. (By the way, the Sunrise Cafe in nearby Yellow Springs is a little pricey, but worth it.)
Worth the Road Trip
For my worship team, Cedarville University is just far enough that we don't want to drive back and forth each day. At first, we stayed at a hotel, but later get a couple Airbnb houses near each other. Again, the affordable price made staying at a hotel or Airbnb doable.
As I've been teaching at Worship 4:24 over the years, I'm surprised at the people I would run into year after year who traveled from hundreds of miles out of state. It's worth the road trip.
All About "Real" Churches
Everything about Worship 4:24 is focused on "real-sized" churches. I've been to conferences where it was clear they were catering to large, "thousand-member and up" churches. But everything at Worship 4:24—from the registration cost to the breakout sessions to the artists they invite—is about equipping the average local church worship leader and team members.
As I post this, the next Worship 4:24 is coming up in a few short weeks. (Check it out here.) I'd love to see you there! I'll even buy you lunch on Saturday. (OK, full disclosure, lunch is included in the price.)
If you miss Worship 4:24 this year, mark your calendar for the last weekend in January so you don't miss it next year.
Stuck?
Learn how to level-up your team with this free video training.
Find Articles and Podcasts on