Summary
This week, we're continuing to talk about the Healthy Ministry Framework—specifically how critical it is to develop engaged team members.
To do that, Jerimae Yoder, our Director of Coaching, and I are talking about the 7 Stumbling Blocks for Team Members.
Free 7 Stumbling Blocks Resource Pack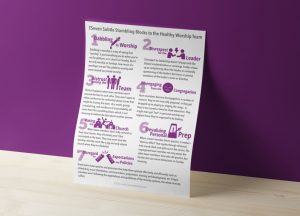 The free 7 Stumbling Blocks Resource Pack contains:
The Seven Subtle Stumbling Blocks Team Sheet
The Seven Subtle Stumbling Blocks Team Sheet is a quick-and-easy tool to identify what the stumbling blocks are and how they hold back your team.
The Seven Critical Commitments Team Sheet
The Seven Critical Commitments of a Healthy Worship Team are the crucial engagement areas for team members. When your team members are fully committed in these seven areas, you can't help but have a healthy worship ministry.
Team Discussion Guide
These Team Member Sheets are best used as a catalyst for critical conversations. You'll get ready-to-ask questions to get your team talking about where they need to grow or deepen their commitment.
To download this Resource Pack, go here.
Show Us Some Review Love??
When you're ready, would you help us out by giving us a positive review and rating on Tunes/Apple Podcasts? That would be fantastic, plus it'll help spread the word about the Worship Workshop Podcast.
Stuck?
Learn how to level-up your team with this free video training.
Find Articles and Podcasts on