A Conversation with Bill Mozingo
Summary
Welcome to the WorshipWorkshop Podcast where we help you grow a stronger team that leads engaging worship.
This season, our over-arching theme is "engaging your congregation in worship."
Today, we're digging into the tension between performance and worship. To do that, I have a conversation with veteran worship leader (and cover band frontman and actor) Bill Mozingo to discuss the tensions between performance and worship.
It'd be really simple to say "it should all be worship."
But anyone who's stepped foot on a platform—from musician to preaching pastor to announcement-giver—knows that there's an engagement that needs to happen with the people who are gathered.
So inherently, there's a performative aspect to what the platform team does, and, to a larger degree, the production/AVL team.
So Bill and I talk about that tension today and hopefully give you some practical ways to navigate that with your team.
About Bill: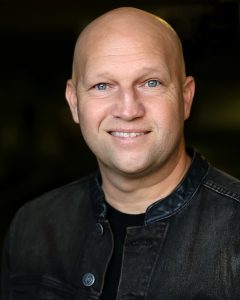 Bill Mozingo has been a professional musician for more than 20 years and has been involved in producing and writing several praise and worship albums. Since 2006 he has been a member of Wave Church creative team in Va. Beach, VA. For six of those years, he was worship pastor and involved in writing, directing and acting in numerous plays and musical productions. He and his wife Darrah have four active boys and live in Va. Beach.
In his spare time, Bill enjoys playing golf and basketball, and being the front man for an 80's and 90's music cover band.
Stuff Mentioned In This Episode:
Lead Worshiper 101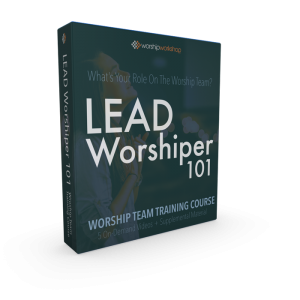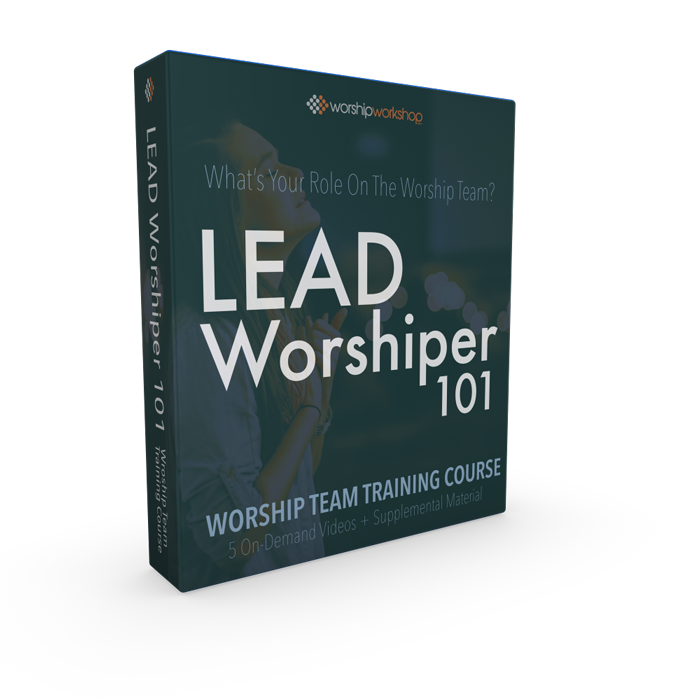 Your Team Will Learn…
Their Unique Role
The music ministry in the church isn't any more special or privileged than any other ministry in the church. But there are some unique responsibilities for team member, especially those who serve on the platform.
Why Preparation Matters
Practice and rehearsal aren't just about sounding "good." Your team will learn how great preparation will help them be better leaders and more expressive worshipers.
How To Be Ready Spiritually, Not Just Prepare Musically
Our role on the platform and in the production areas requires more than just showing up prepared musically and technically. This course will help them understand what kind of heart preparation the worship ministry requires.
How To Lead When You Don't Feel "Spiritual"
Sometimes, we show up to serve and we just don't feel like worshiping. This course will help your team to know that's OK. It's normal. So we talk about what to do in those times when we don't "feel" like leading and serving.
Why The Songs We Sing Matter (And How Not To Get Sick Of Them)
Your team will learn why it's important to be intentional not only about which songs we sing, but also how often we sing them. Team members can get sick of songs long before the congregation, so we deal with that issue.
What Platform Presence Is (And Why It Matters)
Worship team members don't just lead musically, but also visually. How they express their worship and engage with the congregation matters. This course will introduce them to platform presence and Biblical expressions of worship.
The Worship Workshop Learning Community (Facebook Group)
Don't know what our Worship Workshop Learning Community is?
Our new Worship Workshop Facebook Group isn't another place to swap setlists and post pictures of your new stage design. This is about helping you transform your team members through…
training…
community…
encouragement…
and challenge.
And, it's free to join. Each week, there will be new training lessons for you and/or your team members. And each month, there'll be a limited-time premium class that's geared to grow your team musically, relationally, or spiritually.
Again, it's all free.
The Worship Workshop Learning Community Facebook Group will give you a "training space" where you can challenge your team, celebrate their wins, and give them quick, bite-size training to help them grow and mature.
Become the Patron Saint of Worship Workshop
The free content on this podcast and inside the Worship Workshop Facebook group is actually not free. I mean, it is for you. But you know that this sort of stuff takes money to create and share.
And we know that the worship leaders who have been a part of our WorshipTeamCoach.com and WorshipWorkshop.com community would love a way to support what we're doing, besides just buying a few products.
Now you can. We've partnered with Patreon to allow you to financially support the podcast and the facebook group for as little as $2 a month. And the two bucks makes a difference. Because you're not the only person partnering with us.
Now, to jumpstart our Patreon participation, we've got a HUGE bonus for the first 20 people who support us at the $10 or more a month level. You get to choose one of five packages (each priced over $100) for FREE.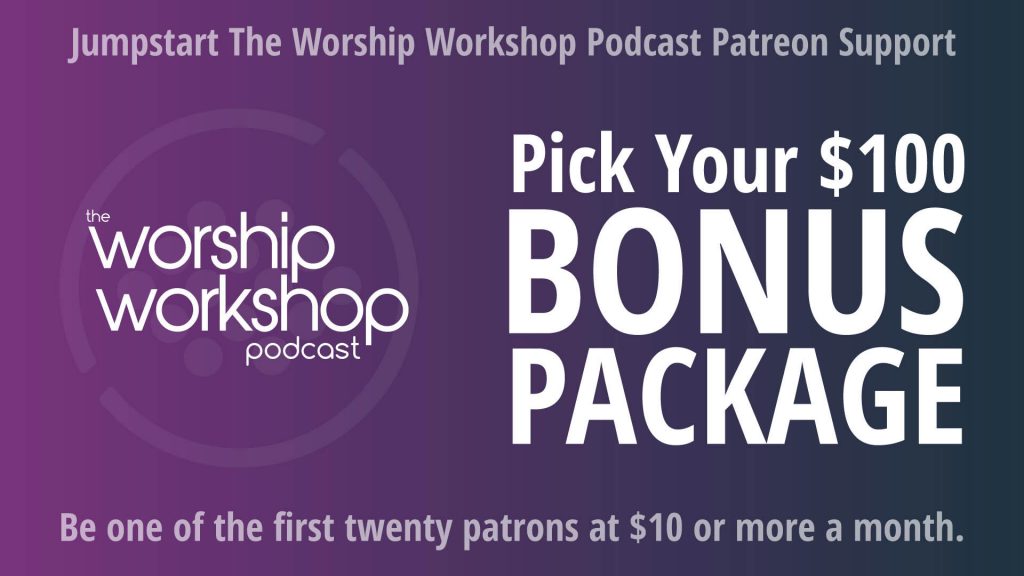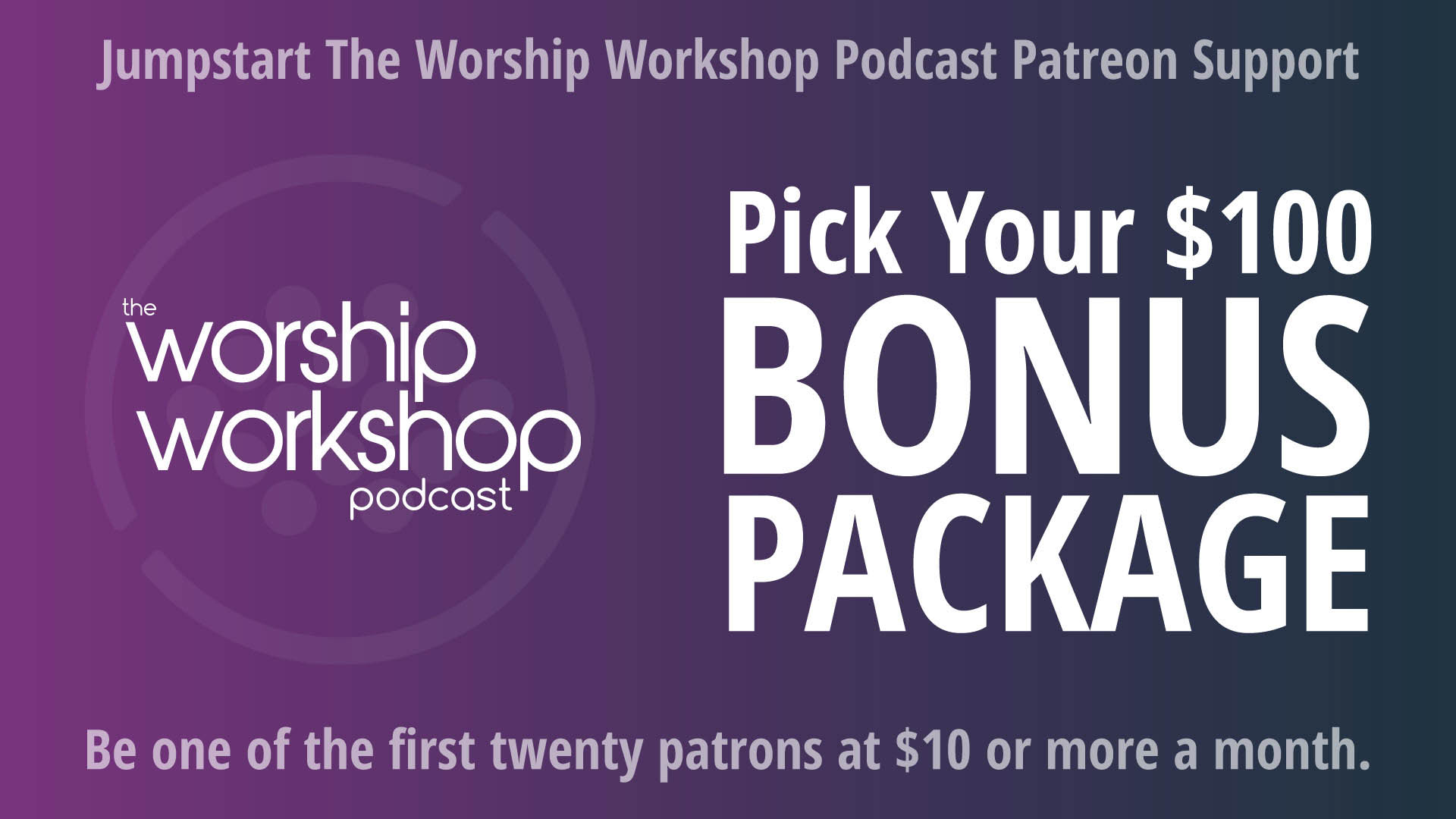 Discover what the training packages are here.
Show Us Some Review Love??
When you're ready, would you help us out by giving us a positive review and rating on Tunes/Apple Podcasts? That would be fantastic, plus it'll help spread the word about the Worship Workshop Podcast.
Note: Some links may be affiliate links. 
Stuck?
Learn how to level-up your team with this free video training.
Find Articles and Podcasts on